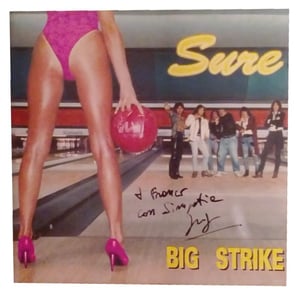 €

190.00
RARE VINYL CENTER is excited to announce the great rarities in rock music.
SURE Big Strike
Category: Hard Rock
Year: 1996
Label: King Steve Records
Catalog Number: KSCD01999
Alex Sure lead vocals
Randy Rail lead & rhythm guitars
Steve De Biasi lead guitar
Luis Alvarez bass
Anthony Bur drums
Chris keyboards
Tracks
1. Good Time
2. Red City Lights
3. Tears In The Night
4. Highway Runner
5. Bad To The Bone
6. Fantasy Runner
7. Don't Fall Rain
8. Wild Kiss
Note:
Tiratura limitata EXTREMELY RARE
Copy signed by the bass player Luis Alvarez
IMPORTANT:
PLEASE,
Send us through the "info" - "contact" FORM, the title of your CD!!
if you do not write this info, we can not ship the cd!
IMPORTANTE:
Cortesemente segnalate attraverso il form "info" - "contact" il titolo del CD che avete ordinato e il prezzo!